Shop Online
Online Flourish Farm Shop Coming Soon! Please sign up to our newsletter for more news on veg boxes, flowers, workshops and much more!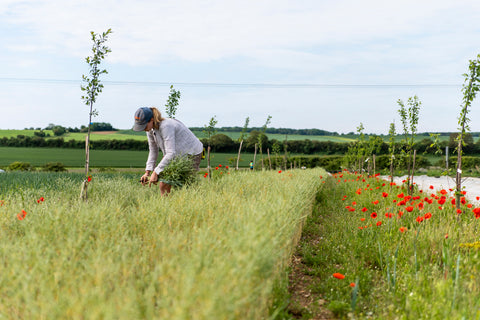 The Farm
"The soil is the great connector of lives, the source and destination of all. It is the healer and restorer and resurrector, by which disease passes into health, age into youth, death into life. Without proper care for it we can have no community, because without proper care for it we can have no life."

― Wendell Berry, The Unsettling of America: Culture and Agriculture
The soil is the heart of our farm. We cultivate our crops using farming practices that are as gentle on our soil as possible, and do everything in our power to increase the biodiversity of our farm. Our desire is that our farm becomes a haven for wildlife, along side producing a great diversity of nutritious crops that work together in a symbiotic system of abundance and resilience. 
For more information on our farm please visit www.flourishproduce.co.uk or @flourishproduce on Instagram